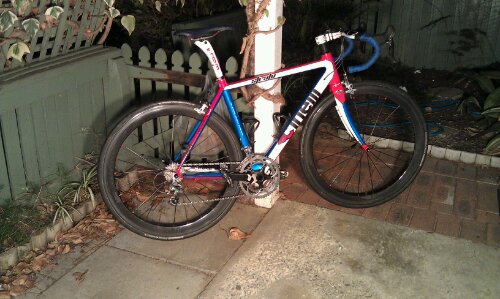 Well where to start. Maybe the beginning. Monday was the first day of training. 0330 time to get up and get the car packed for work. SPR Monday ride is hilly and there was only four of us. I felt like my effort was lacklustre.
Tuesday Melbourne Cup day. I behaved and only had a couple beers then came home. Got right into eating what I should. The ride in the morning was not great but the breakfast at Dome after was.
Wednesday chance for a slight sleep in. The ride started at 6am and is  a quicker ride than I am used too. I lasted until about half way when I was dropped. Made my own way back to work.
Thursday I was feeling good but I hung back to ride with riders in groups under Main 1. A few times I took off down the road just to stretch a little bit. Did better but was not a fast enough ride. should have chanced the fast group taken short cuts just to see if I could hold on and push some more.
Friday, managed to hold onto the end of Shelly. Almost. Still was not feeling I was up to this but was now praying it would all come together. The race was only a day away.
Saturday morning. 7am arrived at my friends place for breakfast. Saltana Bran and then an omlet. arrived at Champion Lakes around 9am. David and I set off for a couple laps of the lake as a warm up. Second lap we did a couple short sprints on the back straight and I felt ok.
10:20am and the race started. The speed was on from the start. Windspeed was up and everyone was looking for somewhere to hide. I was stuck on the outside all the time. Barely a wheel on the pavement. Every time we turned there was a surge. I was able to cope with it and feeling "huh this is easy" I was mid pack and mostly protected from the wind.
On the third lap turning left on the way back was another surge. Somehow I had no room and was shuffled back. Heart Rate hit its max and I was getting dropped. I tried to get on failed. Tried again and got no where. I made one last attempt and closed the gap somewhat but the group was off down the road. I would never catch them now. I knew that was it. I had no choice but to suck it up and put in what I could and hope some others got dropped and could then work back to the group somehow. Getting down on the drops and peddling looking forward and not giving up.
The wind was not my friend. The rain was falling and all I could do is count the laps. I thought I would pick up a few but no. The B grade car went past me on the back straight and I was staying left to keep out of there way. Carlos and John went past and wasted some energy to tell me to push on. Gave me the encouragement to push a little harder. Another lap went by and I had Jamie come up on me and said jump on. He had a roll through going so I got on. got to the front and was hung out to dry into the wind. I could tell they either didn't want me their or were forcing Jamie to do there work so I pulled off and Jamie had to take there slack. However one girl decided to hang back and suck my wheel then kindly after recovering for a bit left me to die.
Two laps to go. Thanks to the lap counters cheering me each pass. Was always good to hear your name called as you fly by. I was really wanting to quit and give up but knew I could not live with myself. My legs were on fire but the second last lap I put in a little more effort as I could see someone down the road and I was gaining. I caught them on the back straight and they didn't even get on my wheel.
One lap to go. I knew every turn of the crank was closer to the end of the pain. By now the end could not come soon enough. The pain in my legs was murder and I was on auto pilot. Road was wet. I was covered in sand and all I could do was look down the road. I had to keep that speed over 30. 34kph is where I wanted to be. When I glanced down once or twice after realising looking at it only hurt more I was doing 36kph. I knew I was riding faster than I have for a long time. On the last lap I turned into the complex and had two guys in front. They were going to fight for the finish and we had no timing chips so a push for the line seemed pointless. All I did is look forward. I looked no where but straight ahead. My focus was on that bridge and getting the hell under it. Sure enough I put in one last small push and cross that line and rolled down the road.
Once I turned around and headed back I saw Amanda had just finished. Said good ride to her. Once stopped I could not get off the bike I was stuck. I hobbled back to the tent and left the bike with Sin. I tried to sit and couldn't. I walked but my legs were shot. I was in agony. When you hurt this much I can only think its a sign you gave all you got. Everyone else around seemed fine. But I have not hurt like this for a long time so was happy I felt some pain.
Next year I will train harder and last longer. I can't wait to do another race.